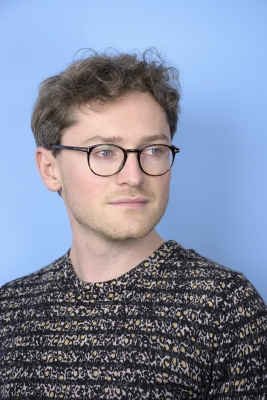 Né le 1er octobre 1990 en France, Jean-Baptiste Colleuille est diplômé d'un Master en Design Objet et Espace obtenu à l'
«Ecole Supérieure d'Art et de Design (ESAD) de Reims, France»
en 2014, ainsi que d'un Master of advanced studies in Luxury and Craftmanship obtenu à l'
«Ecole Cantonale d'Art (ECAL) de Lausanne, Suisse»
en 2015.Ses projets sont marqués par une approche plastique liée à une dimension culturelle forte, un intérêt marqué pour les usages et objets vernaculaires, le dialogue entre l'artisanat et l'industrie contemporaine. Il s'intéresse avant tout aux émotions que suscitent les objets et à leur présence.
Durant ses études, il travaille 4 mois dans le studio de design de
Mathilde Bretillot
à Paris où il contribue aux recherches dessins, volumes, suit le développement de divers projets et expositions. Jean-Baptiste participe également à de nombreux workshops avec des designers tels que: Laura Bethan Wood, Formafantasma, Stéphane Villard & Gaëlle Gabillet, Noam Toran. Il a collaboré avec des marques telles que: Christofle, Vacheron Constantin, De Sede, Ruinart, Milka ainsi que la Fondation Bettencourt pour l'intelligence de la main.
Le travail de Jean-Baptiste Colleuille a été exposé dans différents musées dont le Centre Pompidou et Le Lieux du Design à Paris, France ainsi qu'au musée Bagatti Valsecchi à Milan, Italie.
Born on October 1, 1990 in France, Jean-Baptiste Colleuille graduated from the «Ecole Supérieure d'Art et de Design (ESAD) of Reims, France» in 2014. He earned a Bachelor's Degree and a Master's Degree of Product and Furniture Design. In 2015 he continued his studies at the «Ecole Cantonale d'Art (ECAL) of Lausanne, Switzerland» where he obtained his Master's Degree of Advanced Studies in Luxury and Craftsmanship. Jean-Baptiste Colleuille's approach to design is characterised by an artistic way of thinking linked to a strong cultural aspect, his passion for vernacular uses and objects, the correlation between craftsmanship and contemporary industry. He is concerned about the emotions created by products and their presence.

During his studies he worked for four months in the Studio of Design of Mathilde Bretillot in Paris, France where he contribute to the drawing research, following the development of numerous projects and exhibitions. Jean Baptiste Colleuille participated also in various workshops together with designers such as Laura Bethan Wood, Formafantasma, Stéphane Villard & Gaëlle Gabillet as well as Noam Toran. He worked for several international companies such as Crhistofle, Vacheron Constantin, De Sede, Ruinart, Milka and the «Fondation Bettencourt pour l'Intelligence de la Main».

Jean-Baptiste Colleuille's works have been exhibited in several museums including the Centre Pompidou and Le Lieux du Design in Paris, France as well as the Museo Bagatti Valsecchi in Milan, Italy.